Mark:
Unashamedly, I admit I own xXx the first on DVD. I saw it several times in the cinema, and have watched it several times on DVD. I will argue with anyone who chooses to take me on, of its virtues as an almost unmatched popcorn-actioneer. Scene set… now for the review.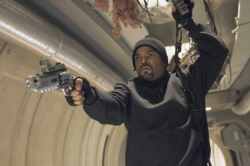 Disappointingly, xXx² is not nearly a match for its predecessor. With an extremely abrupt opening, during which we hear of Xander (Vin Diesel) Cage's death the night before in Bora Bora, and see Agent Gibbons become a fugitive with technogeek sidekick Tobey Lee Shavers, xXx² has pretensions at being another great action film. After the frenetic first three or four minutes, during which we see much of the action seen in the trailer – alarming me at least, as I wondered if there would be anything left for the remaining 97 minutes! – this film slows right down. It tries to introduce character, failing dismally, and only at the end does it remember it started as an action film.
Which is not to say I am against character development in an action film. But the Darius Stone and his former lover – will they get back together? – subplot? Give me a break. It just doesn't work, and it makes the time between the action sequences far too long.
The comic relief, in the form of Tobey Lee Shavers, the mad NSA inventor who gave Xander the great weapons in xXx, falls flat and hard. There is far too much of his nervous geek routine, it is never amusing, and the use of his character in the original was far more balanced. The leadership of Jackson also misses its mark, and gee, I wonder if he is really dead? Hmmm…
Remarkably, for a film that cost US$87million, the major set pieces are built of very poorly made CGI – the bullet train chase is the best example of how badly CGI can go wrong. Surely, Jackson and Dafoe can't have cost that much, that there'd be no money left to make these sequences even approaching realistic?
There are explosions, fast cars, fast women, and intrigue as an attempted coup takes place during the State of the Union address. Much of it fails to capture the imagination. Sadly, the loss of Vin Diesel was just too large an obstacle for this film – his charisma was the only thing that stopped xXx being a really shitty action movie.
Rating:
Review by Mark Lavercombe, 23rd May 2005
Hoopla Factor: