Stuart:
Having been a huge fan of the TV show when its life was cruelly cut short back in 2007, I was super-excited to learn that Veronica Mars was getting a second chance thanks to crowdfunding. A year and a day after the start of the campaign, Rob Thomas, Kristen Bell et al have delivered a movie that's everything a marshmallow could want.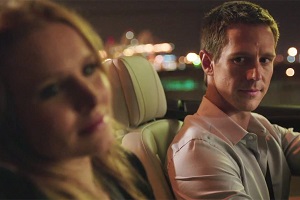 Set nine years after season 3, the film begins with Veronica declaring that she's left her sleuthing days behind her. With psychology and law degrees under her belt, she's being interviewed by one of the most prestigious law firms in New York when she learns of a murder in her home town of Neptune. Drawn inexorably back to where all her troubles began – and ended – she's soon neck deep in another mystery, with a huge cast of familiar faces around her.
It is really quite astounding how many recognisable characters were rounded up for the film. I even had trouble remembering a couple of them them, but nevertheless it has the effect of bestowing a certificate of authenticity on the belated film. Even more surprising is the fact that only a couple of said minor characters feel shoehorned into the plot. There are also some surprises in the form of bigger name stars that I won't spoil for you.
Of course, this is Bell's show, and she slips back into the role as if no time has passed whatsoever. Logan Echolls (Jason Dohring) is the second-most important character in the Veronica Mars world, so it comes as little surprise that he's entangled in the primary plot. Dohring was always the TV show's secret weapon – in the early days of season 1, we had no idea just how fantastic a performance he was capable of, nor how significant his role would become – but here he feels somehow muted. In part, it's the same problem that Buffy and Angel had: when the two characters aren't at loggerheads, they're less interesting. This would be my main complaint with the movie – Logan doesn't get much of a character arc. But I guess that's fair enough when you only have 107 minutes to tell a story and have to spend quite a bit of that time getting everyone up to speed.
The script is as sharp as ever, and all the feminist, postmodernist, Raymond-Chandler-meets-Nancy-Drew elements are present and correct. In fact, the film is much better than the worst parts of season 3, which suffered because its future was so uncertain (having to wrap up plots early, then being told they were renewed for another three episodes, and so on.)
It must be said that this doesn't really feel like a big budget feature film. It's more of a TV movie.
That's not to say it looks cheap – indeed, the show never did look cheap to begin with – more that it doesn't broaden its scope, even though it's getting a cinema release in a few countries. Interestingly, the presence of a murder mystery such as this further highlights the fact that thrillers really aren't too popular in contemporary Hollywood, instead placing all their bets on mega-budget tent pole blockbusters.
At the end of the day, fans of the TV show won't be disappointed. For those who never really got what all the fuss was about, this won't change your mind. For people like me, however, more Veronica Mars is a blessing. After 'Arrested Development' and now this, we only need more 'Firefly' and we'll have the holy trinity of overdue geek TV resurrections.
Rating:
Review by Stuart Wilson, 19th March 2014
Hoopla Factor: