Stuart:
Beginning in the years leading up to the outbreak of the Second World War in Germany, The Book Thief tells the tale of young Liesel (Sophie Nélisse), a girl sent to live with a foster family. Her foster father, Hans (Geoffrey Rush) is a kind, softly spoken man who is married to the stern, perpetually disapproving Rosa (Emily Watson). As war begins to bleed into their lives, Sophie finds solace in books, any books that she can get her hands on.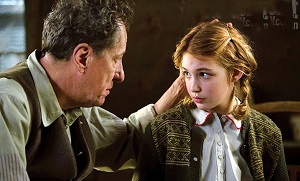 Based on the novel that apparently everyone on my train line has read, The Book Thief is an accomplished film with wondrous production values. It's also the kind of movie where success rests on the shoulders of the central character. Rush is as good as we would expect, whilst Nélisse has the unenviable task of carrying the whole film on her young shoulders, since she features in practically every scene. She takes to the task with aplomb, perfectly balancing Liesel's intelligence with her obliviousness as to the bigger picture.
It's the small town focus of The Book Thief that I found really interesting. We've seen hundreds of films about the Second World War, usually focussing on those on the front line, or the millions of minorities who lost their lives under the Nazi regime, yet films focussing on the ordinary German civilians seem to be few and far between. The focus is on the characters, rather than the historical events, and the war is merely the sinister backdrop to a tale of the loss of innocence.
The Book Thief manages to walk a fine line. It never gets overly cheesy or sentimental, nor does it dwell on the darkest moments of Germany during the Second World War. This balance might sound like a good thing, but in the end we get a very safe piece of filmmaking, and one that never resonates strongly. The characters are likeable, their interactions well-acted and the premise interesting, but this isn't enough to raise the quality of the film above 'pretty good', or at worst, merely acceptable.
I can only assume that the book went into a bit more depth than the film does. I truly appreciate that the film confines itself to 130 minutes, but I found that more often than not, The Book Thief played it safe. This is the kind of – well, I don't want to say pleasant viewing experience, but you get the idea: the horrors of the Second World War aren't really the focus here. Instead we get an interesting tale about a young girl coming to grips with the monumental events occurring around her.
Rating:
Review by Stuart Wilson, 18th January 2014
Hoopla Factor: