Stuart:
I should warn you: I like B-grade thrillers.
And Wrong Turn is very definitely that. The fact that the sellthrough copies were available only months after the cinema release should be a good signpost, warning any potential viewers that they're not exactly in for high-class entertainment.
As far as B-grade thrillers go, this film works. There is lots of blood, some gruesome dismemberments and a bunch of inbred mountain men giggling and snorting all the way through.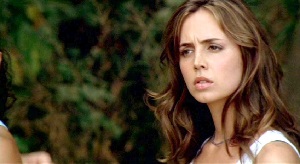 Apparently this was a big thing for Eliza (The New Guy, True Lies).
I still reckon her best work was in Buffy, but her singlet-clad busty form is the main thing adorning the cover. Reprising his recent work in B-grade thrillers is Desmond Harrington (Ghost Ship, The Hole), and he is excellent.
Okay, it doesn't help that Mark and I were calling out the plot twists before they occurred, but it entertained all the same.
It should be noted that a particular featurette on the dvd entitled Eliza Dushku: Babe In The Woods is almost as entertaining as the film. In it Stan Winston, the director, writer, and Eliza herself praise her performance for its 'layers' and 'complex character arcs'. Mark and I were silent the whole time, incredulous. Was it a joke? I mean, come on, it's a slasher film. She runs. And screams. And occasionally fights back. Hardly anything incredible. But no, it was apparently serious.
The film is good. The featurette has to be seen to be believed.
Rating:
Review by Stuart Wilson, 15th March 2004
Hoopla Factor: