Stuart:
Karen Moncrieff's brilliant yet unassuming Blue Car obviously got the attention of some pretty important people, cos her follow-up feature has more big names than you can poke a stick at. The Dead Girl is very much an ensemble piece, comprising five short films. The titular character is the thing that connects them in one way or another.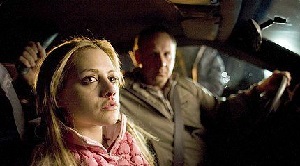 Like Blue Car, the focus is very much on women and the choices they face, and primarily the corners men force them into. There is one nice guy in The Dead Girl, but that's about it. The rest pummel, use or take for granted the women in their lives, and it's a pretty depressing cycle that knows no social or economic boundaries.
The stories are equally powerful and well-written, and the film is subtle enough not to force any morals or agendas upon the audience. The problem with the format is that I didn't get much of a chance to bond with the characters. It was Agnes Bruckner's performance that really attracted me to Blue Car, and her character's tale was fascinating. The Dead Girl left me wanting more. Rose Byrne's performance in 'The Sister' was stunning (she cries in this just as much as she did in Sunshine) and I didn't want to leave her. Alas, after twenty minutes or so we moved onto the next segment. The same went for the other central characters. From the socially inept Arden (Toni Collette) and her domineering mother in 'The Stranger', to Ruth (Mary Beth Hurt) who learns the truth about her husband in 'The Wife' and then Melora (Marcia Gay Harden) who's having to face some hard truths about her daughter in 'The Mother' – all of the narratives were whisked away from me too soon.
It's a lot darker than her previous film, and Karen Moncrieff has proven herself a skilled talent, I just would have preferred a smaller cast with more in depth storytelling. The film certainly achieves its goals however, highlighting the lives of those women who are pushed into the background, known only by their position in the family rather who they actually are.
Rating:

Review by Stuart Wilson, 5th May 2007
Hoopla Factor: