Stuart:
After working on television series and a documentary, Ana Kokkinos has returned to the feature film format for the first time since 1998's Head On. Like her previous feature, Kokkinos has been daring enough to adapt a book that pushes the boundaries, and has set herself the hard task of making an extreme film that comes close but never falls into excess.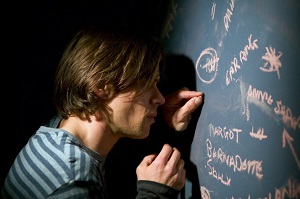 The Book of Revelation is mysterious enough to keep one's attention, though fails to be completely compelling. The main catch is the reversal of the typical gender-related balance of power – Daniel (Tom Long) is kidnapped and sexually abused for a period of two weeks by a trio of women. Surprisingly though, the implications of such a reversal are only examined once or twice. For the most part, this narrative upheaval of traditional expectations seems to be strangely (or maybe appropriately) unimportant.
The film features a fantastic performance by Long, who undertook extensive training sessions for three months with renowned choreographer Meryl Tankard, and the end result is startling. His dancing is very convincing, and his 'ripped' physique adds to the overall visceral impact of the film and its exploration of the body. Greta Scacchi (Flightplan) brings an air of sincerity to the film but Colin Friels doesn't really have much room to move, which is disappointing. Anna Torv is a strong presence, but her role as Daniel's stage co-star and girlfriend is fairly unlikeable. That she plays two characters adds wonderfully to the mystifying nature of the film.
You know almost straight away that this isn't going to be a film that answers all the questions it poses – and that's fine. The main problem is that The Book of Revelation is a very detached film. It's hard to feel for Daniel, who isn't particularly likeable or interesting to begin with. Part of this is because we view Daniel and his body in much the same way as his captors. Unfortunately, instead of making us complicit in a confronting and bold manner, it merely serves to distance us from the drama. The dream- (or more accurately nightmare-) like abuse scenes are for the most part well handled, though at times it feels like they're trying a little too hard to shock us, which lessens the overall impact. The film fails to horrify in that way that say Hard Candy or Larry Clarke's work does.
Shot in Melbourne, Kokkinos and director of photography Tristan Milani manage to capture my home city in a fresh and interesting way, making the most of our proximity to water (not to mention trams). However, it also ingeniously manages to be rather nondescript. There's something faceless about the city that complements the masked identities of the kidnappers.
The Book of Revelation is a strong film, but it failed to provoke or leave me with much to ponder after the credits had rolled.
Rating:
Review by Stuart Wilson, 1st August 2006
Hoopla Factor: